Act of Deception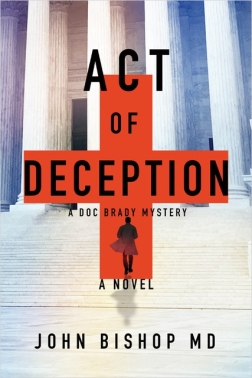 A Doc Brady Mystery Series
(Book 2)
Is it medical malpractice, or is the attorney just another ambulance chaser?
It's 1995, and Houston orthopedic surgeon Dr. Jim Bob Brady has been sued for medical malpractice; a mysterious infection caused a knee replacement to end up as an amputation. Donovan Shaw, a ruthless plaintiff's attorney, has taken the case and doesn't seem bothered by the fact that he and Brady share a number of friends. "It's not personal!" Shaw says. But it feels personal—especially when Shaw threatens, "I will do anything, and I mean anything, to win the case, even if I have to destroy you and that pretty wife of yours. I will stop at nothing. You remember that!"
And Brady isn't the only one in his practice being sued. How is Shaw getting his inside information? Can the patients afford to say no to filing lawsuits, even if the claims aren't valid? Through a series of twists and turns, and with the support of his wife Mary Louise and their professional investigator son J. J, Brady once again doggedly goes into "sleuth mode" to get to the truth of the matter—even after his life is put in jeopardy. Will he survive, only to find himself at the mercy of the wild and wooly Houston court system? Is this whole mess his fault? Or is there an act of deception involved?
978-1734251128 | June 10, 2020
John Bishop MD